On 14 May 2021, members of the Margate Town Deal Board agreed the list of projects that will be put forward under the Town Investment Plan to secure a Town Deal for Margate.

The Ministry of Housing, Communities and Local Government (MHCLG) has offered up to £22.2 million in response to the initial Town Investment Plan submitted at the end of last year for £29 million.  In response to the reduced funding offer, the Board commissioned independent consultants PRD Ltd to develop a framework to help assess how each project originally put forward would deliver against key criteria including the Government's Green Book.   This framework is shown below:
The Board followed a number of steps to decide on which projects should be prioritised and included in the project list for the £22.2m investment:
Using the f

ramework

developed by  PRD Ltd, the Board reviewed each project and agreed the scores attributed to each project by the consultants. The weightings for the scoring had been agreed by the Board before the discussion on individual projects to ensure the choice was  outcome and results based, rather than project led. 

The project team and consultants then provided additional information to the Board to help it finalise its decision and how much public investment was needed for each. 

After a series of meetings, on Friday 14 May the Margate Town Deal Board agreed the final list of projects, with provisional

funding allocations.

  All projects that have been prioritised will still need to meet the requirements of the Bu

siness Case phase

and due diligence requirements (over the next 12 months) before any funding is finally approved.
The provisional funding allocations are set out below: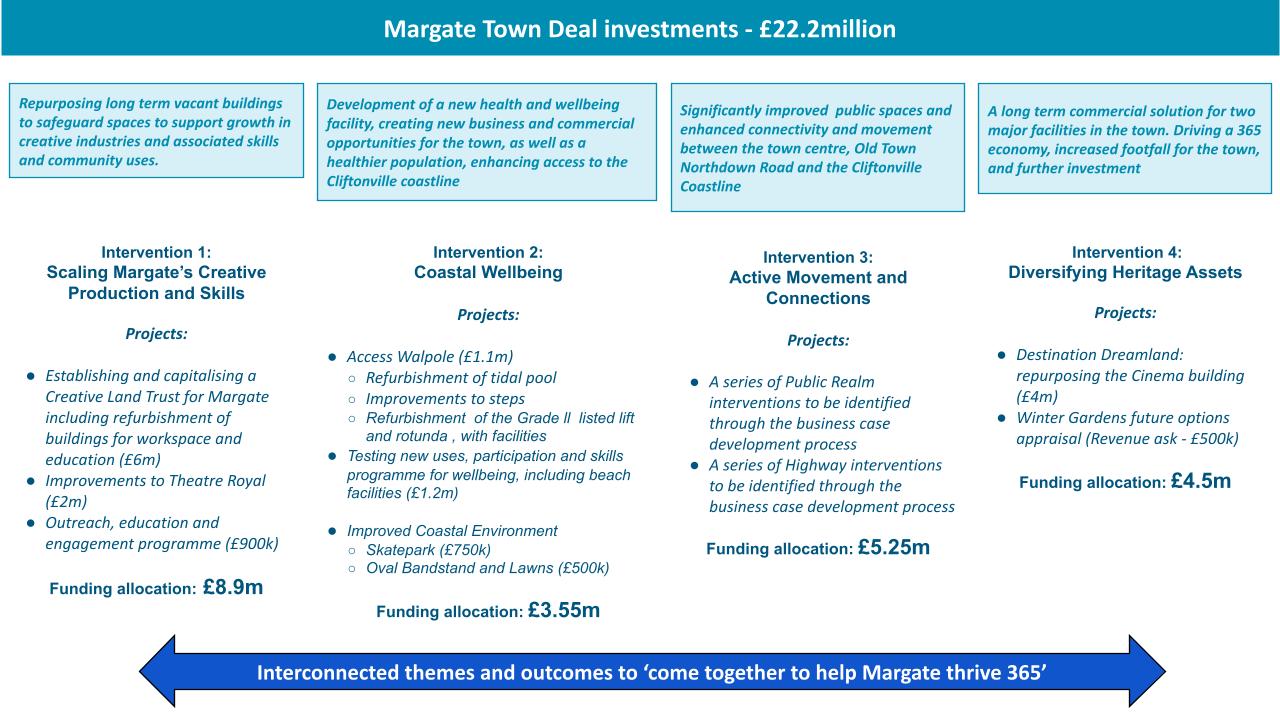 The Board is not required to submit a revised Town Investment Plan, but on 08 June 2021 submitted the final Project List (and accompanying spend profiles and identified business cases) to MHCLG. There is now a period of upto 12 months for business case development and only once these business cases are approved by MHCLG that the Town Deal funds will be received by the accountable body and the five year delivery phase of projects can begin.
Did you find this page useful?