Coastal Wellbeing Projects:
See below a plan of how all of the Coastal Wellbeing projects sit alongside each other.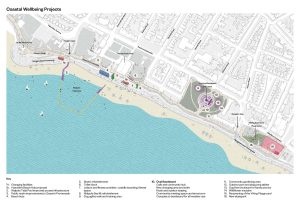 Project Overview:
The aim of this project is to redevelop the Oval Bandstand and Lawns, bringing the local community together, through events and other social activities. The plans include the development of a community cafe that offers training and employment opportunities for local people. There will also be public toilet facilities – a key consideration for visitors and people using the popular Viking Coastal Trail.
The project team, GRASS Cliftonville CIC intends to build on the existing roster of events that currently take place by engaging with local community partners and service providers. Building the community event programme and diversifying the services on offer is key as this will help to ensure financial stability of the site.
Project Outcomes:
The iconic Oval Bandstand and Lawns will become a focal point for local people and visitors to this stretch of the coast.
The project will create genuine opportunities for people from the surrounding area to enhance their skills or education, through community-based activities.
By offering a welcoming space where people can meet and socialise, the bandstand and lawns will help the development of stronger bonds, building resilience and cohesion within the community.
Next Steps:
The Coastal Wellbeing business case which includes the lift alongside other projects was approved by government in November 2022. GRASS are now working through the RIBA stages of the project.