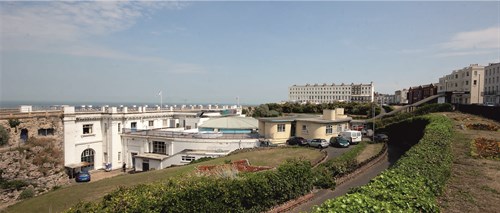 Brief description
Built in 1911, the building consists of two main halls – the Kings Hall and the Queens Hall.
The Kings Hall consists of a dance floor, stage area, and two balconies overlooking the main hall dance floor. Behind both balconies are smaller rooms which are accessed via a staircase on either side of the balconies.
The main hall is 35m x 29m with a stage width of 10.2m.  There are nine dressing rooms behind the main stage of varying sizes. The building has disabled access, with a large car park at the rear of the building. There is access from either side to the front of the building via a steep slope. The main entrance fronting Fort Crescent is accessed via a concrete staircase.
The Queens Hall is the smaller of the two halls. The half circle area has a small stage in the centre of the semi-circle. There are six basic dressing rooms behind the stage. Opposite the stage is a raised balcony area with tables and chairs. There are two kiosk areas that can dispense refreshments when required.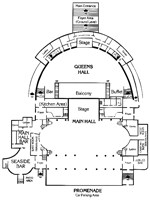 Facilities
Parking
At the rear of the building accessed from Fort Crescent is a large parking area on the promenade. This area is suitable for a unit base.  There is additional pay & display parking available close by at Trinity Square.
Toilets
This venue facility has Gents, Ladies and Disabled facilities.
Food/Drink
The Winter Gardens has full catering available.
Contact
Telephone 01843 296111