Originally, the Dreamland cinema building opened in 1935 as an entertainment space. The sea-facing exterior comprises an 80 ft. Expressionist-influenced brick tower with a projecting fin bearing neon strips that spell out the word Dreamland, in capital letters.
This project will create a year-round, state of the art entertainment and conferencing venue, programmed with events and content which will compliment and expand on visitation to the Dreamland Amusement Park.
Phase one of the project will start the refurbishment of the sea-facing Sunshine Café, turning it into a workable consumer events and hospitality space.
The ground floor will provide a temporary home for The National Cultural Centre, which People Dem Collective is currently raising funds for. The Centre will celebrate the rich cultural heritage of the town, the diversity of the thousands of visitors who come for the beach experience and the thriving arts scene.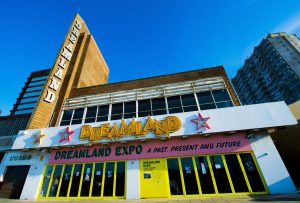 Project Outcomes:
The project will:
Contribute to the regeneration of Margate's seafront.
Improve how the seafront looks.
Attract domestic, international and business tourism all year-round, boosting the local economy and creating much needed 'out of season' footfall and jobs.
Working alongside People Dem Collective (PDC), the project team will endeavour to introduce innovative new programmes in Art & Culture, Education, Heritage, Diversity and Health.
The National Cultural Centre will provide a visitor experience of Black British History in Margate, thus increasing tourism to Margate particularly from Black and Brown visitors.
Promote community group engagement from Black and Brown and lower socioeconomic communities, with heritage venues and experiences.
Next Steps:
Management company to conduct feasibility studies. The aim will be to determine the best way to achieve a sustainable business opportunity within a Grade II* listed building.
The specialist work required for the renovation project will require millions of pounds. SHL, having already invested £50 million into Dreamland and Margate, is committed to continuing to invest into the next phase of its development.
The Margate Town Deal funding will go someway to bridging the heritage deficit and therefore making private investment more viable.