Coastal Wellbeing Activities:
As part of the Margate Town Deal Coastal Wellbeing intervention, the Testing New Uses project aims to improve the health and wellbeing of local residents. 
Beach and wellbeing facilities are being designed for Walpole bay. The project will also look at possible new uses for Walpole Bay, including commercial opportunities and activities to improve the health and wellbeing of local people.
We are running a pilot of free Coastal Wellbeing activities on or around Walpole Bay beach from September 2023. Feedback and learning from this pilot will help shape the wider Testing New Uses, Participation and Skills Programme in 2024 which will coincide with the new beach facilities being built.
The pilot Coastal Wellbeing activities are being offered as a six week course, and are for people who would not normally take part in classes or paid activities.  
You can find the full list of activities below, with a link to the sign up form to book your place:
Inclusive Street Sport in the Soccerena with Sports Connect, Positive State and Inclusive Sport, Walpole Bay Lawns – Every Thursday from 3.30pm to 6pm, starting on Thursday 14 September.
Belly Dancing with Sparkles Belly Dance. A fun, colourful, inclusive, low impact workout. Children are welcome, accompanied by an adult – every Monday at 5.30pm from Monday 25 September.
Martial Arts for self-defence and self-confidence with Richard Todd from Thanet Judo Kwai.Using techniques from Aikido, Tai Chi and Self Defence, Richard will teach you simple moves that will help you feel more self confident and able to defend yourself using sticks and simple objects – every Monday at 10.30am, starting on Monday 25 September. 
Bootcamp for Weight Loss with Dean Perry from O.C. Fitness. A friendly bootcamp that can be adapted to your fitness level, to get you started on your weight loss journey – every Tuesday at 5.30pm, starting on Tuesday 26 September.
Hula Hoop with Celine from This Bean Spins. Learn hula hoop tricks and spins, a fun, low impact exercise class, suitable for all ages and fitness levels – every Tuesday at 10.30am, starting on Tuesday 26 September. 
Social Singing with Laura Watson. Sing songs from the 40's and 50's as well as modern day classics. Meet new people and improve your lung capacity and breathing – every Wednesday at 5.30pm at the Walpole Bay Hotel shelter, Fifth Avenue, starting on Wednesday 27 September. 
Boxing for Mental Health with Loz Elliot. A stress-relieving workout where you can let out your frustrations in a safe place. Feel calmer and more able to deal with day-to-day life. This workout will also promote weight loss and better breathing – every Thursday at 10.30am, starting on Thursday 28 September.
Children* in Permaculture with Flints *aged 0-5 with their carers at Newgate Gap CIC. Art and craft activities for children aged 0 to 5, and their carers. Connect with the beach and sea and leave feeling refreshed, recharged and more connected to the community and your beach. Toilets and changing facilities available at Newgate Gap CIC. Children must be accompanied by an adult – every Thursday from 10am to 12pm starting on 28 September 2023.
Clubbercise with Leanne Hawker.A fun dance workout with glow sticks. Suitable for all fitness levels and ages. Children are welcome, accompanied by an adult – every Thursday at 5.30pm, starting on Thursday 28 September. 
Yoga with Angela from Another Journey Begins. A friendly, relaxed yoga class suitable for beginners and people with long-term health conditions – every Friday at 10.30am, starting on Friday 29 September. 
The activities will be held outside on Walpole Bay beach or the surrounding area, where weather and daylight permits, and will be moved indoors as needed. When you sign up you will receive information about the venue and meeting place.
If you have any questions, or require help signing up to an activity, please contact Natasha, our Coastal Wellbeing Coordinator:  natasha.brown@thanet.gov.uk 
Coastal Wellbeing Projects Overview:
See below a plan of how all of the Coastal Wellbeing projects sit alongside each other.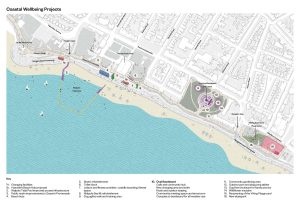 Testing New Uses Project Overview:
We want to ensure that the range of capital investments that are being delivered to improve accessibility and opportunities along Walpole Bay benefit the whole community. The testing new uses, participation and skills programme aims to support residents to be more engaged and have more say over health and economic activity, with a focus on testing uses around coastal wellbeing and also to support longer term employment opportunities. It provides an opportunity to experiment and test what can work well which could be replicated and built upon across the town and district in the future.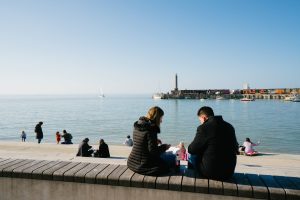 Project Outcomes:
Building new facilities/amenities to support the activities. This is likely to involve changing facilities, toilets and showers to serve the ever growing numbers of sea swimmers and water users at Walpole Bay.
Providing an indoor space to be used to test ideas for improving the health and wellbeing of residents in Cliftonville and Margate.
Contributing to the sustainability of Walpole Bay which is likely to create employment and/or business opportunities.
Next Steps:
The specifics of this project are being defined using stakeholder and community feedback, statistics and other evidence to help inform what this programme of activity will look like.
The programme will need to deliver against the outcomes set out in the Town Investment Plan and will be intrinsically linked with the Coastal Wellbeing capital projects.
Following the appointment of a Coastal Wellbeing Participation and Skills Coordinator, we are now meeting with community organisations, groups and service providers to start building the foundations for collaboration to improve Coastal Wellbeing in our Cliftonville and Margate communities. We are looking at ways to make the coastline more accessible to help our residents to enjoy what it has to offer in terms of health and wellbeing benefits. We are also undertaking benchmarking and researching case studies of similar locations to inform our plans for any new facilities, and beach management.
We are now developing a project delivery plan for the Coastal Wellbeing Participation and Skills Programme which aims to test new uses around health and wellbeing at Walpole Bay and surrounding area.  Learning from the Coastal Wellbeing Activities pilot will also help inform the programme.