The Theatre Royal which was first constructed in 1787 is located in the heart of Margate. It is Grade II* listed and retains its Victorian interior dating from 1874. Within the Town Deal there is a £2m allocation for the Theatre Royal project. The Town Investment Plan states this will be used to improve the Theatre Royal and surrounding environment, to create a new hub of theatrical production.
This is part of the wider Scaling Creative Production and Skills intervention within the Town Investment Plan, which collectively includes establishing and capitalising a Creative Land Trust for the town, refurbishing vacant buildings to create affordable workspace, and reversing the disrepair of key heritage assets, such as the theatre.
Alongside these capital investments will be an outreach, engagement and education programme to ensure participation.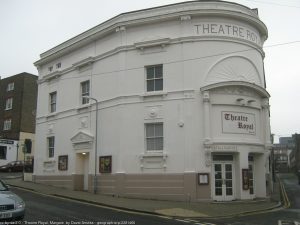 Project Outcomes:
This project will:
Go beyond capital improvements and reimagine the Theatre Royal to ensure a sustainable future.
Safeguard this amazing heritage asset, but also to provide opportunities for the local community to connect with its theatre and become part of the town and district's growth within creative production.
Ensure that more people, from a diverse range of backgrounds have an involvement in or enjoyment of creative production.
Improve the local economy, including the night time economy, expand/diversify the visitor offer/experience, and create jobs and training opportunities.
Require a new operator and coalition of interested parties to enable the theatre to thrive commercially and for the benefit of the community.
Support capital works to repair and restore the theatre to enable a sustainable future for the building and its communities.
Next Steps:
Urgent works will be carried out during 2023 to safeguard the theatre building. The specialist work required for the renovation project on the theatre and any auxiliary spaces, will require millions of pounds. The Margate Town Deal funding will cover a proportion of the works needed, therefore making further private or public sector investment more viable, An Expression of Interest will be submitted to the National Lottery Heritage Fund, and an operator model clearly defined. 
In March 2023 a dedicated project manager was appointed for the Theatre Royal project to drive the project forward and lead on the application to the National Lottery Heritage Fund.