Supporting Local Businesses
Totally Locally and Fiver Fest
We are proud to be promoting several shop local campaigns in Thanet to boost local businesses including Totally Locally and Fiver Fest events.
Totally Locally is more than a shop local campaign, it's a philosophy.
It started out as a small idea in the North of England and has grown into a multi-award-winning worldwide movement. Groups of volunteers in towns and areas use their specially created marketing kit calles 'The Town Kit,'  following guidelines and using templates and a full event strategy, and they use it to make their town a stronger, more vibrant & resilient place.  There is now a network of Totally Locally Towns across the world, sharing ideas, working together and making a difference to their independent businesses.
WHAT'S IN THE TOTALLY LOCALLY TOWN KIT?  
As well as all the templates for posters, newsletters, bag designs, banners, stickers, bag stuffers, badges, postcards and much more (shown here), there are lots of instructions on how to run the campaign – from how to get a meeting together (with a template for an invite to send out) to running events. There's even a press release template for you to amend with your town name, times of launch etc. There is a timeline, and everything you need to run the campaign in stages.
Contact your Town Champion to find out more about Totally Locally and how you can get involved
Ramsgate – Rebekah Smith – town.promoter@ramsgatetc.org.uk 
Ramsgate – Adam Jemmett –  boardathomegaming@hotmail.com
Margate – Steven Mckenna – thebaymargate@btinternet.com
Broadstairs – Chris Jones – contact@sweetyesterdays.co.uk
Westgate – Sarah Gibbon – westgategalleria@gmail.com
Birchington – Lorrain Powderham – birchingtonframing@gmail.com
Fiver Fest
Fiver Fest is a big celebration of the small businesses and shops that make up the high streets and communities across the UK that make our towns special.
Our simple message – spending just £5 per week in your local independent shops and businesses makes a huge difference to your town or High Street!
Fiver Fest is now a national event. Each time 50-100 towns and thousands of businesses across the UK get involved. Thanet businesses have enjoyed and benefited from taking part in Fiver Fest events to raise their business profile and generate sales/new customers.
Download your Fiver Fest posters here
Margate: https://www.dropbox.com/sh/35rfxcijac9pf2w/AABJgjW8Y-p85XTddi_Df0Yha?dl=0&fbclid=IwAR1qHaNn8-8WC3mXaGlt2yupWhkiM7q1cTecl4zfz_sx6Hf8iKtXsfWUsyI 
Birchington: https://drive.google.com/file/d/16GSMfbpa6q-ZD6X7xqUNzT_W4IicBUrv/view 
Ramsgate: https://www.dropbox.com/sh/95fu1fts6luevu8/AABZWkoasH8CIXDX4YtNpsMOa?dl=0&fbclid=IwAR1tFHfa1xnziz-Emfhu5yCCX9gypYC1U3JCO4t5mXOku_ez7SXHzyqV7yg 
Broadstairs – https://www.dropbox.com/sh/phx2lacv92f7zpc/AADiY7trVCFlxhaoNFaer7f5a/2022%20October%20Fiver%20Fest?dl=0&subfolder_nav_tracking=1
Local businesses who have taken part in the Fiver Fest initiative said: "Brilliant initiative!" and "There was a great buzz around Birchington over the two weeks, generated lots of positive feeling about our local shops."
The Fiver Fest initiative in Thanet – part of the Totally Locally campaign – has been supported by the Council as part of the Welcome Back Fund. It aims to encourage people to continue to support their high streets by boosting footfall and encouraging local spending. 
The council has also been working with Broadstairs and St Peters Chamber of Commerce, Broadstairs Town Council, Ramsgate Town Council through the Town Promoter, and the Westgate and Birchington Traders Forum who are collectively supporting the initiative. In addition, a group of traders named the 'Fiver Fest Champions' have volunteered their time to support other local businesses and encourage them to sign up to the initiative. 
Find out more about the offers available via the following our town's shop local Facebook pages: 
Read the full news release on our website in relation to a Fiver Fest in 2022
For further information on Totally Locally or Fiver Fest please see www.totallylocally.org and www.fiverfest.co.uk
Permalink
Shop and Eat Local at Christmas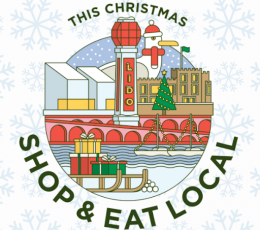 Last Christmas, we wanted to encourage everyone to shop and eat local! Through the Welcome Back Fund, the council ran a dedicated campaign to raise awareness of the benefits that shopping on the high street can have on the local economy and to encourage more people to use the district's local high streets throughout the festive season.
The campaign also aimed to give local businesses the opportunity to raise their profiles amongst local residents, which will play a key part in increasing footfall.  
All campaign activities were recognisable as they featured a festive illustration – an adaptation of the popular Respect, Protect, Enjoy logo which was created for the council's summer awareness campaign in 2021. Residents saw the festive design on posters, buses and on social media in the run up to Christmas.
Why is it important to shop local?
ix reasons why we should support our local highstreets:
– There are a wealth of independent shops and eateries on your doorstep that need your support more than ever.
– Boost your town or village economy and help keep the stores open to thrive. For every £1 spent with a small or medium-sized business, 63p stays in the local economy, compared to 40p with a larger business.
– A wide variety of independent shops and eateries enable you to find unique and creative gifts that stand out from the crowd.
– Inviting and characterful eateries offer a great culinary experience not too far from home.
– Reduce your carbon footprint and help the environment by not travelling out of town to shop.
– A more enjoyable shopping experience avoiding the crowds, traffic and delivery dramas.
Thanet's first Shop Local Advent Calendar
As part of the Shop and Eat Local at Christmas campaign, an exclusive offer from a local Thanet business was revealed daily in the run up to Christmas 2021 in Thanet's first Shop Local Advent Calendar. Residents could unlock offers via thanet.gov.uk/advent-calendar. 
Local businesses were invited to be featured.
Festive window competition 
An Instagram poll featured a weekly public vote on the best festive shop window displays across Thanet.  @OfficialThanetCouncil 
The winning businesses were named 'Local Business of the Week' on community radio station Academy FM.
Thanet's Festive Business Directory
There are hundreds of fantastic shops and eateries on high streets across Thanet. To help people find them, we created a visual directory of all businesses on our database.
View Thanet's Festive Business Directory. 2021
Shops and eateries were grouped according to their town in Thanet, and also what they offer customers.
FREE Shop & Eat Local this Christmas posters for businesses
To enhance the campaign a range of branded printable posters were made available to businesses, for local shop windows and noticeboards.
Businesses could select as many pages of the document to print according to their needs. Options in the document included:
'Our Festive Offer'
'Thank you for supporting your local highstreet this Christmas'
'Buy everything you need this Christmas, all within walking distance'
'Discover an artist, maker or creator from your town this Christmas…shop local, feel good!'
'Buy gifts made by people in your area & support small businesses'
'63p of every £1 spent in a local business stays in the local economy'
We have also added an updated range of posters, reminding people that face coverings are now mandatory in shops: DOWNLOAD 'WEAR A MASK' POSTER
Placing these posters in shop windows helped to reinforce the wider signage and advertising which was seen across our towns, on buses and on the radio for this campaign.
FREE Saturday parking
The council offers free parking at the following car parks in the district every Saturday. More information.
Mill Lane Car Park – Margate

Harold Road Car Park – Cliftonville

St Peter's Park Road Car Park – Broadstairs

Cannon Road Car Park – Ramsgate
Permalink
Did you find this page useful?