Thanet District Council is funding the creation of a plan for the future of Ramsgate that supports a thriving town centre and the needs of local people. The Ramsgate Future Investment Plan will make the most of the town's assets and deliver a shared vision to transform and regenerate the town.
Having secured funding from the Future High Street Fund and High Street Heritage Action Zone (HAZ), we now have a great opportunity to build on this through further funding and investment to:
Create new and better employment;
Enable local people to develop new skills for the economy of the future;
Support local businesses to grow;
Improve connections and make it easier to get around;
Celebrate and invest in our Seafront, History and Heritage.
On Friday 18 June 2021 a bid was submitted for Ramsgate to the Levelling Up Fund (LUF). For more information please read our press release.  Following this submission, work will continue to develop the wider, longer term Town Investment Plan for Ramsgate, and we will await the outcome of our LUF bid from Central Government.
To get involved you can take part in surveys to tell us what you think.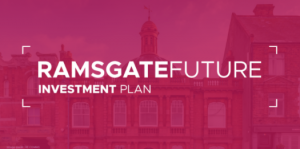 Did you find this page useful?