The Council does not own any drains or sewers except for those in its own properties. The Council has no responsibilities for cleaning or maintaining sewers or drains.
It is an unfortunate fact of life that drainage sometimes blocks, often due to no particular person's fault. Although the drainage of sewage and rainwater from properties may appear relatively straight forward, it can in reality become quite complex and confusing should a problem arise.
Drainage definitions
The three main descriptions you need to understand are "Drain", "Private sewer" and "Public Sewer".
A drain (blue line of the plan below) is a pipe taking waste water from one building only. Responsibility for its maintenance, clearance and repair falls to the property owner.

In certain circumstances an occupier e.g. a tenant can be held responsible for blockages rather than the owner.
A private sewer (yellow and green lines on the plan below) is a pipe taking waste water from two or more buildings. Responsibility for its maintenance and upkeep falls to Southern Water.

There are some private sewers that are not the responsibility of Southern Water. These are few and far between and the owner is likely to be aware that the system was not adopted for a specific reason. Some systems that run off pumping stations in outlying areas were not adopted.
A public sewer (Green line on the plan below) is the responsibility of Southern Water to maintain and repair. Where a sewer and the buildings it is draining, was built before October 1937, then that sewer is classed as being public.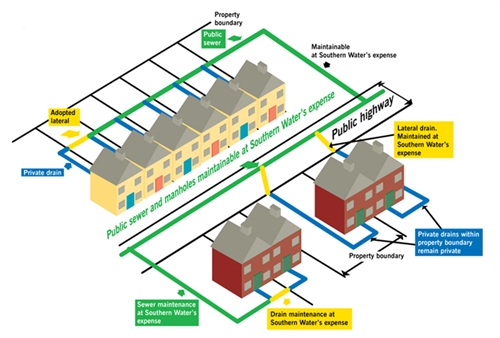 Southern Water also provides advice on drainage and sewer ownership.
So what am I responsible for?
You are always responsible for blockages and repairs to your drain up to the point where it leaves your property. You share responsibility for blockages and repairs to any private sewer which your waste water goes into up until it leave the boundaries of the property I.e. a building that is split into flats will be shared until it leaves the boundary of the property into the public sewer.
The drain or sewer to my property is blocked – what should I do?
First of all, try to discover whether the blockage is only in your own drain. If it is, you should contact a plumber or specialist drain clearance company. It may be worth consulting your household insurance policy as some insurers cover drainage issues as part of the policy.
If you are fairly sure the blockage is in the public sewer, then contact Southern Water.  If they are satisfied that the blockage is in the public sewer, they will arrange to visit.
You could also consider contacting the Council's Environmental Health Department for advice and assistance.
Do my Water Rates and Council Tax cover my drainage problem?
Water rates paid to Southern Water do not cover problems encountered with drains.  The rates go towards the treatment of sewage, upkeep of the main sewers and contribute to the provision and maintenance of a supply of water.
The Council are responsible only for the drains that serve their properties, Thanet District Council does not have responsibility for any other drainage.
Council Properties
In the case of property owned by the Council, contact East Kent Housing Repairs to report the problem.
Enforcement
With existing drainage we can only enforce the law to make sure that no public health problem arises. This means that if a drain or some private sewers are left blocked or unrepaired, we have a duty to make those responsible do the work. We first serve a legal notice on those responsible for the drain and give them time to carry out the work themselves. If they fail to do this, we normally do the work ourselves and charge each person responsible for the drain their proportion of the cost, which will include a charge for administration.
Road Gullies
Surface water gullies and drains in the road are prone to become blocked due to dirt, litter, leaves etc.  They need regular maintenance to keep them free flowing, prevent flooding and minimise odours.
If you have witnessed flooding or any other issues relating to surface water drainage on highways and public footpaths please contact Kent Highways.

Rural Drainage
Cesspools, private drainage systems and other type of rural drainage are the responsibility of the houses that they serve.
If someone has a faulty rural drainage system that goes into a water course the Environment Agency can take action against them and they need a consent to discharge from the Agency. If it does not go into a water course and causes a problem the council can take action against them.
If you are having a problem with a rural drainage system contact us.