Action Against Litter – Newsletter Issue 4
What's been happening…
Great British Spring Clean
We are pleased to announce that the seventh annual #GBSpringClean and #GBSchoolClean will take place from Friday 25 March – Sunday 10 April 2022.
Thanet District Council staff and Councillors will be undertaking a three day, district-wide spring clean during the first week of April.
Keep Britain Tidy have also added a profile frame to Facebook, to use the frame simply click on your profile photo, select 'Add Frame' and search for Keep Britain Tidy.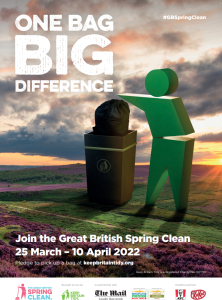 If you would like to participate in an organised litter pick in Ramsgate please see the link to Ramsgate's Great British Spring Clean Litter timetable 2022.
Plastic free Broadstairs share their news;
You can keep up to date with the great work of Plastic Free Broadstairs who are working with Surfers Against Sewage on their website www.sas.org.uk or on instagram @plasticfreebroadstairs.
You can also read The Plastic Free Communities Impact Report on their website plasticfree.org.uk.
Did you know?
Did you know the average UK household uses 520 #plastic #bottles a year but only recycles just over 300 of them? All local authorities in the UK collect bottles. #Pledge2Recycle #KentDoes
You can watch the pledge2recycle video on plastic bottles on the pledge2recycle tiktok page.
A shout out and thank you to all our fantastic litter pickers…..
What have the litter picking groups been up to so far? Community groups kick started 2022 by organising litter picking events all over the district and collected over 100 bags of litter before the end of January. This is fantastic work, thank you for helping to keep Thanet clean and healthy and for sharing your updates with us.
RUCU shared photos of their December and January Litter Picks, fantastic work!
Northdown Primary Academy School and Palm Bay Primary School shared photos of their January littler picks, well done to everybody involved!
Ramsgate Litter Group share photos of Colman Park in February litter picks
Fantastic Broadstairs Town Team have undertaken three litter picking days this year, you can find out more on their Facebook Page – Broadstairs Town Team.
AQA Unit Awards for Schools
Well done to Palm Bay Primary School and Enterprise Learning Alliance pupils who were awarded certificates of learning for litter picking activities. Thanet District Council Education has now awarded 60 certificates to pupils across Thanet. Keep up the great work!
Contact: education@thanet.gov.uk if you would like to find out more about our AQA Unit Award Scheme.
Litter bag station sponsorship
Sponsorship opportunities are available all year round. A big thank you to the businesses and groups that have already sponsored our bag dispenser stations district-wide Broadstairs Chamber of Commerce & Westgate-on-Sea Town Council THANK YOU!
For more information contact education@thanet.gov.uk
Are you planning a project/initiative?
Do you have a project or initiative you would like to propose to Thanet District Council? If so please complete the form below and we will be in touch.
Did you find this page useful?