9 July, 2020
Thanet businesses invited to take part in multi-million pound project, developing year-round, experiential tourism product
To aid the county's recovery following the effects of COVID-19, the tourism team at Thanet District Council is working in partnership with Visit Kent on the launch of a brand-new Experience Development Programme.
Funded through the European Interreg Experience project, this unique Development Programme aims to assist both traditional and non-traditional tourism businesses across the region to adapt, and develop new tourism products for business recovery.
The programme will work closely with organisations, supporting them as they adjust and diversify their product offer, encouraging collaboration with businesses both inside and outside of their sector, helping them to reach new audiences, and developing a year-round product to help recovery and resilience against future challenges.
Visit Kent is currently looking to work with 125 eligible organisations, each of whom will receive a range of support to build and launch their new products, from specialist 1:1 consultancy and business planning, to new photography, marketing campaigns and proactive testing and sales with the travel trade.
Visit Kent Chief Executive Deirdre Wells OBE said:
"In light of the current COVID-19 crisis, the tourism, leisure and hospitality industry is having to drastically re-think how to rebuild demand and revenue streams. To survive and future-proof business, it's crucial for organisations to rethink, adapt and develop new ideas for consumers who will be travelling differently, looking to reconnect with close family and friends to enjoy shared experiences in a safe and secure environment.
"We're very excited to announce the launch of our brand-new Experience Development Programme. If you have a great idea for a new experience, an idea for collaborating with another business or an existing offer which could be adapted for a new audience, we'd love to hear from you. This programme could help you turn your idea into reality, and take it to market through a package of dedicated support."
Tourism plays a vital role within Thanet's economy, generating £319 million a year and supporting more than 7,950 jobs, which equates to around 20% of the local workforce (Cambridge Model Economic Impact Study 2017).
Interreg Experience will help to maximise the tourism industry's already significant economic impact on the area, focusing on an increase in overnight stays to cultivate jobs and additional spend through high value, low volume tourism in the area.
Thanet District Council is one of ten organisations to have committed to match fund the Visit Kent and Kent Downs AONB budgets for the Interreg Experience project, alongside colleagues at Kent County Council, Medway Council and district authority partners in Ashford, Canterbury, Dover, Folkestone & Hythe, Gravesham and Tunbridge Wells.
Councillor Ruth Duckworth, Cabinet Member for Estates and Economic Development said:
"We are delighted to be involved in this opportunity to boost tourism all year round, and to enhance the great experiences already on offer in Thanet. We are pleased to be working with partners, including Visit Kent and Kent County Council on this project, and look forward to delivering an exciting and varied programme that will support economic growth in the district and beyond.
"This programme is linked to our new Destination Management Framework which focuses on developing experiential tourism that meets visitor expectations out of the main summer season and encourages people to stay overnight. We are particularly interested in experiences around the creative and coastal sector which will enhance a visitor's stay."
To find out more about the Experience Development Programme and for details of how to apply, visit:
https://www.visitkentbusiness.co.uk/about-us/european-funding/experience/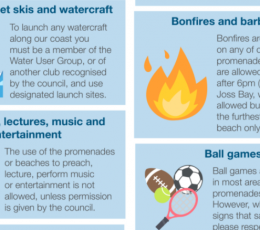 30 July, 2020
The council has launched a new coastal booklet to educate beach businesses, bay inspectors and its partner agencies on current byelaws in place across Thanet's 19 mile coastline.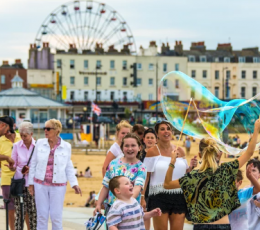 30 July, 2020
Margate was one of 101 places given the opportunity last year by the Government to bid for funding of up to £25 million as part of the Government's £3.6 billion Towns Fund.