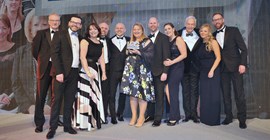 The Housing Team at Thanet District Council were lauded last night (Wednesday 21 March) as winners of the 2018 LGC Housing Initiative Award for their work on the Live Margate project.
Live Margate is an ambitious programme led by Thanet District Council (TDC), which involves buying existing properties in Margate and turning them into quality family homes. It aims to increase the number of family homes (instead of HMOs), improve the living and housing standards for residents living there, as well as encourage investment and owner occupation.
The scheme focuses specifically on making Margate, in particular Cliftonville West and Margate Central wards, a place where more people aspire to live.
TDC, together with a number of key organisations, including Kent County Council (KCC), South East Local Enterprise Partnership, Homes England, and Housing Associations, is investing £23 million to purchase 300 properties, many of which are problem buildings – either derelict or unoccupied for years – and renovate them.
Live Margate has been implemented alongside a number of overlapping initiatives in the same area including designating conservation area status, selective licensing which targets rogue landlords and empty property loans in collaboration with KCC to provide loans for owner occupiers and landlords to renovate properties.
Cllr Lesley Ann Game, Cabinet Member for Housing commented on the win: "We are thrilled that Thanet District Council has been recognised for all the work achieved to date by the Live Margate programme. We have worked closely with our partners, housing associations and house builders as well members of the community to ensure that developments enhance Margate for the long-term. Winning this award is testament to our commitment to improving lives of local people and raising residential standards. Congratulations to all involved."
Eric Hotson, KCC's Cabinet Member for Corporate and Democratic Services, said: "I would like to thank and congratulate all those involved working on this exciting housing regeneration initiative in Margate over the last few years, from both Thanet and Kent. This is a good example of how councils and other partners can work in collaboration to achieve positive results for their community."
The judges said of Thanet District Council's entry: "This winning project demonstrates a successful and sustained strategy to deal with a very challenging housing problem. It showcases clear interventions, partner and community engagement, bravery and tenacity."
The Thanet District Council Housing Team was also shortlisted in the Team of the Year category in the same awards.
-ends-
Notes to editors
The LGC Awards are held by leading publication the Local Government Chronicle. This year was their 22nd year.