As part of the Ramsgate High Street Heritage Action Zone (HSHAZ), we have been awarded funding to deliver a Cultural Programme to encourage people to rediscover Ramsgate's High Street.
The funding has been awarded for activities to take place during 2023. There are a number of opportunities for local individuals, artists and organisations to deliver elements of the overall Cultural Programme, coordinated by the council and the Ramsgate Cultural Consortium.
For general enquiries, please contact culturalconsortium@thanet.gov.uk
If you require any of this information in alternative formats including BSL, Braille, easy read and large format, please contact Elinor.seath@thanet.gov.uk
The Cultural Consortium is running a series of funding hub drop-in sessions/workshops. The sessions will be delivered by the Cultural Consortium, and will take place every month at the Discovery Planet site on Ramsgate High Street.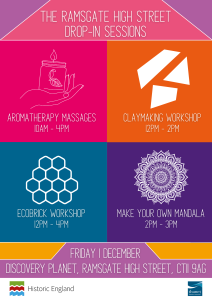 Friday 1st December
10am-4pm Aromatherapy Hand Massages
      Would you like to take a little bit of time out in your busy day?

      Do you need to a chance to relax, reset,  and release your tensions?

      Would you like some sympathetic and friendly company?
Come in, make yourself comfortable, and take twenty minutes for a wonderful free hand massage to set you up for the rest of your day.
12-4pm Ecobrick Workshop
      Would you like to learn the principles, science, and techniques behind ecobricking?

      Would you like to make your own eco-bricks and get involved with the design of ecobrick projects?

      Would you enjoy a chat and a cuppa and snacks as you work?
Come and help us manufacture the bricks we need to build sculptures, planters and lots more for Ramsgate – materials will be provided but you can bring your own too.
12-2pm Clay Making
     Come and be a part of a Thanet wide clay tile art trail.

     Learn how to make a clay tile and contribute to this project.
All materials are provided.
2-3pm Make Your Own Mandala
     Learn the history of the mandala and how to make one.
All materials are provided.
Permalink
The Ramsgate High Street HAZ is running a series of free courses to support local non-profit organisations. These courses will be delivered by Social Enterprise Kent, and will take place monthly at the Discovery Planet site on Ramsgate High Street (Discovery Planet, 47 High Street, Ramsgate, CT11 9AG).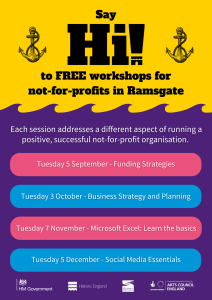 Our next course – Social Media Essentials – Tuesday 5th December
This course covers the following:
Identify the benefits of using social media
Investigate social media channels for your business
Understand good and bad practice on social media
Learn tactics to grow your audience
Learn how to analyse and interpret data
Spaces are limited, so please complete our form to register your place!
Permalink
This is an exciting opportunity for a local artist or arts organisation to develop and deliver a permanent public art or creative wayfinding project along Ramsgate High Street.
Match funding will be available from the Ramsgate Cultural Programme to apply for project funding from the Arts Council.
For further information and details on how to apply view our Match Funding Public Art Commission – Ramsgate Wayfinding document.
The deadline for submissions of Expression of Interest was Monday 20 February 2023 and Ramsgate Town Team was the winning submission.
The design process is now underway to determine the best designs to take forward into production, to create a cohesive design from Ramsgate Station to the High Street.
Permalink
As part of the Ramsgate Cultural Programme, £12,000 has been allocated to support proposals that will enhance Ramsgate High Street's presence in existing Ramsgate events. Applications for funding can be made for £500 to £3,000.
Our Events team must be notified in advance of any planned events. Please ensure that you can meet the requirements before applying for funding. You can find out more about the process, including timeframes and necessary documentation on our website – Organise an Event.
The deadline for applications was Thursday 30 March 2023 and all applications have now been received, reviewed and awarded.
Permalink