Thanet's beaches are ranked among the best in the UK and are enjoyed by thousands of visitors and residents every year.
We are lucky to have a beautiful coastline which attracts visitors and tourists throughout the year, but we are all responsible for helping keep Thanet's beaches clean.
We work hard to ensure that the beaches are kept clean and welcoming. This work includes:
ensuring every beach has bins where visitors can get rid of their rubbish – in the summer we put even more out around the coastline
having a team of beach cleaners who pick up any litter which has been dropped throughout the day – the summer we hire extra people to help
using tractors with specialist machinery to clean our larger beaches
fining those people who do not respect the beach and who leave their litter behind
restricting where and when dogs can go on the beaches during the summer season
removing seaweed from the beach where and when it's possible to do so.
How can you help keep our beaches clean?
There's lots of way that you can help keep our beaches clean.
Always put your rubbish in the bin – if the bins are full take the rubbish home with you. Leaving it next to the bin could result in a fine.
If you have a dog make sure you are aware of where and when you can take it.
Don't feed the birds – they can get aggressive and their poo can affect the water quality
Take part in a two minute beach clean (there's more information below)
There are 15 #2minutebeachclean stations placed around the main beaches in Thanet which encourage beach users to spare two minutes to carry out a beach clean. Each board includes all the information and equipment you will need – including litter pickers and plastic bags.
The #2minutebeachclean initiative has been running since 2014 and has proved popular around the globe. The initiative was set up to help beach users understand the impact that their actions have on the environment and wildlife. It doesn't matter how much litter you are able to pick up, every bit can make a difference.
You can find out more about the scheme, including which of our beaches have boards at www.beachclean.net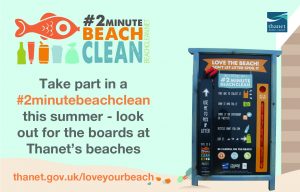 Permalink
We are working in partnership with Southern Water and the Environment Agency to help keep the water around Thanet's coast clean and safe for all users. Each year throughout the Bathing Water Season (May to September) we take part in a range of activities which educate all those who play a part in how clean the bathing water is. You can find out more about the Beauty of the Beach campaign at www.southernwater.co.uk/beautyofthebeach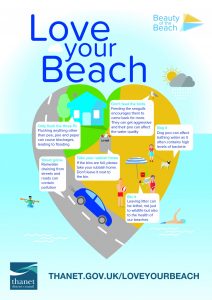 Permalink