Action Against Litter – Newsletter Issue 3
Litter Awareness Events
On 13 September 2021, together with members of the community and Councillors, we hosted two cigarette littering events and litter picks at hotspots in Palm Bay and Northdown Park.
These events were such a success that more are planned around the district.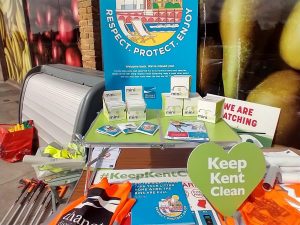 Mars Wrigley Campaign
The bins over there signage had a really positive impact on litter levels over a busy summer 2021.
We shared community feedback to Mars Wrigley on the point raised by our environmental individuals and groups about the materials used to make the banners and concerns about them blowing into the sea. We can confirm all the banners stayed in place through the summer season and carefully taken down and stored away for next season.
Mars Wrigley stated "This is something we've been addressing recently by exploring alternatives, and we're now switching over to a PVC-free banner material, as soon as we've finished a pilot to test that they're reasonably durable. We're also aiming to provide better guidance for the users of the banners in terms of reuse (i.e. keeping them for as long as possible – we know TDC are planning to use them again summer 2022) and careful disposal when they can't be used any more".
Litter bag station sponsorship
Sponsorship opportunities are available all year round. A big thank you to the businesses and groups that have already sponsored our bag dispenser stations district wide.

Kent Environmental Strategy Conference – 2 November 2021
Our Climate Change Officer and Education Officer attended the Kent Environmental Strategy Conference. Electric scooters, bikes and cars could all be trialled. It was fantastic to see how passionate people are about caring for the environment in Kent and there are so many inspiring projects in the county. Including; 'Plan Bee' Kents Plan Bee and 'Plan Tree' Tree planting statement, E Scooters, Green Action, and so much more.
Kent Recycles – DO YOU?
Pledge2recycle visited Westwood Cross on 12 October 2021. The council helped raise awareness and hosted a litter pick. There was a great turn out and our residents knew a lot about recycling. More at www.pledge2recycle.co.uk/kent
Did you find this page useful?