8 February, 2018
Free tickets to Thanet attractions for Kent Big Weekend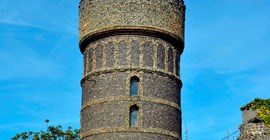 Taking place on Saturday 24 and Sunday 25 March, tickets are available via public ballot from Thursday 8 February
Thanet residents will have the chance to discover what's on their doorstep for free as twenty-one local attractions offer over 1,000 tickets in this year's Kent Big Weekend, which takes place on Saturday 24 and Sunday 25 March. The tickets are available via public ballot which opens today (Thursday 8 February).
The Kent Big Weekend is organised by Visit Kent and takes place annually during English Tourism Week. The weekend is a great opportunity for Kent residents to discover and experience the many wonderful attractions the county has to offer for free.
Thanet District Council's tourism team has been busy encouraging local attractions to participate, to ensure a great presence and exposure for Thanet during the weekend. New participants this year include escape rooms Real Life Games, Heli Charter, Ramsgate Blitz Walk, Ramsgate International Film and TV Festival and the Walpole Bay Hotel, whose owners are offering an afternoon cream tea.
Councillor Hunter Stummer-Schmertzing, Cabinet Member for Regeneration and Enterprise Services said: "I am pleased to see so many Thanet attractions participating this year.  It is a great opportunity for local residents to get out and about, discovering the amazing and diverse attractions on their doorstep.  They can then tell their visiting friends and relatives about them, which is a big market for the area.  The Kent Big Weekend also helps to raise the profile of Thanet and our attraction offering across Kent."
Crampton Tower Museum in Broadstairs is the only Thanet venue to have participated every year since the initiative began.
Peter Shaw, Chair of the Crampton Tower Museum Trust  (CTMT) said: "When Visit Kent introduced The Kent Big Weekend concept we were pleased to embrace the initiative, which significantly raised our local profile.  CTMT is more than happy to continue supporting them and Thanet District Council's tourism team in this very worthwhile exercise."
Visit Kent Chief Executive Sandra Matthews-Marsh MBE said: "The Big Weekend is a real success story for Kent's residents and a great way to kick-start the tourist season.
"English Tourism Week is all about encouraging people to get out and about to experience the tourism attractions their country has to offer, and we are very proud that Big Weekend is part of these celebrations. We want to support our industry and tourism businesses, and encourage residents to  experience them and spread the word to friends and family about just how much Kent has to offer.
"You never know what you might win, and how much fun you could be having on 24th and 25th March! Remember to share your stories and pictures on social media using #kentbigweekend."
The public ballot for tickets closes on Sunday 11 March. Two tickets per household will be allocated by ballot to the lucky winners, although some family tickets will be available as well.  Successful entrants will be notified on Monday 12 March.
Find out more about the Thanet venues taking part in the Kent Big Weekend and their offering: www.visitthanet.co.uk/kentbigweekend.
To register for free tickets, go to www.kentbigweekend.co.uk, from 8 February to 11 March.
Notes to editors
Thanet venues participating in the Kent Big Weekend are:
Crampton Tower Museum, Broadstairs
Dickens House Museum, Broadstairs
Drapers Windmill, Margate
Dreamland, Margate (tickets will be valid for 31 March and 1 April)
Gadds' Ramsgate Brewery, Broadstairs
Heli Charter, Manston
Hornby Visitor Centre, Margate
Jungle Jim's, Quex Park, Birchington
Margate Museum
Monkton Nature Reserve
Paintballing at Quex, Quex Park, Birchington
Powell-Cotton Museum, Quex Park, Birchington
Pugin's Church and the Shrine of St Augustine, Ramsgate
RAF Manston History Museum
Ramsgate Blitz Walks
Ramsgate International Film and TV Festival
Ramsgate Tunnels
Real Life Games, Ramsgate
Shell Grotto, Margate
Tudor House, Margate
Walpole Bay Hotel, Margate