10 November, 2020
Temporary toilet closures during second national lockdown
10 of the 20 facilities across the district to remain open.
A total of 20 public toilets are normally open over the winter period in Thanet.  In response to the increased Covid-19 infection rate nationally and in Thanet, as well as the current lockdown in England, 10 toilets have been temporarily closed. 
These closures will allow the team to increase the frequency of cleaning in the remaining toilets, as doing so may help to minimise the transmission of the virus. Currently, there is no budget available to increase the size of our cleansing team to allow all toilets to remain open.
The national restrictions from Thursday 5 November 2020 require the public to stay at home, except for specific purposes.  The 10 toilets that remain open have been selected to ensure that each area of the district has at least one toilet open to help support customers of essential businesses in our towns and also members of the public who are exercising as locally as possible to their homes. 
The following toilets will continue to open daily and will receive additional cleaning (4 times per day).  Disabled facilities, accessible with a RADAR key, are available at each of these locations.
MINNIS BAY CAR PARK – Birchington 08:00 – 17:00
WEST BAY – Westgate 08:00 – 17:30
BUENOS AYRES – Margate 08:00 – 16:30
THE CENTRE – Margate 08:00 – 18:00
HAROLD ROAD – Cliftonville 08:00 – 15:40
CAVENDISH STREET – Ramsgate 08:00 – 18:00
EAST PIER YARD – Ramsgate 08:00 – 16:25
CROFTS PLACE – Broadstairs 08:00 – 17:25
BROADSTAIRS HARBOUR- Broadstairs 08:00 – 16:55
HOPEVILLE AVENUE – St Peters 08:00 – 15:45
The closures will be reviewed at the end of the current national lockdown and we will endeavour to return to the normal winter schedule as soon as possible. More information can be found at thanet.gov.uk/public-toilets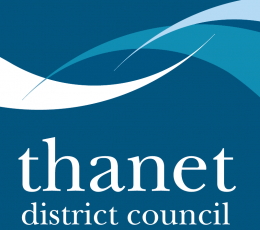 24 November, 2020
Three new COVID-19 Ambassadors are being introduced from today (Tuesday 24 November) to ensure Thanet's businesses follow regulations.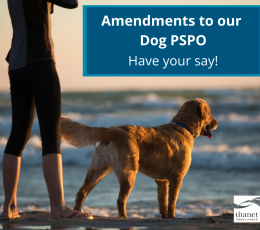 23 November, 2020
Dog Public Spaces Protection Order 2020 amendments In October 2020, Thanet District Council took the decision to extend its existing Public Space Protection Order (PSPO) for dog fouling, exclusion and dog control.