Thanet District Council is hosting a series of eco days as a part of the national Great Big Green Week (Saturday 24 September – Saturday 2 October), alongside the highly anticipated Rise Up Residency, which also comes to Margate at the end of September.
The council-led initiatives begin on Tuesday 27 September, with a community eco day at Margate's Dane Park, before heading to Ellington Park in Ramsgate on Thursday 29 September, and finishing with a slightly shorter day at Pierremont Park in Broadstairs on Friday 30 September.
All three days will feature creative and educational activities for younger visitors, with 'bring your own' plastic free picnics to keep the appetites at bay. For those wanting to get involved in craft sessions, there will be a workshop on making a draught excluder from unwanted clothes and fabrics (please bring these along with you to take part).
Cllr Bob Bayford, Cabinet Member for Environmental Services & Special Projects, said: "We're really looking forward to engaging with the local community to celebrate action to tackle climate change and protect our natural spaces. These gatherings will provide a perfect opportunity for residents to speak with the council's Climate Change Officer and engage with our new Net Zero Strategy, as well as speak to the Home Energy Officer for expert advice on saving energy at home."
There will also be the opportunity to speak to the founder of the Jump (climate change) Campaign during the Dane Park event on the 27th.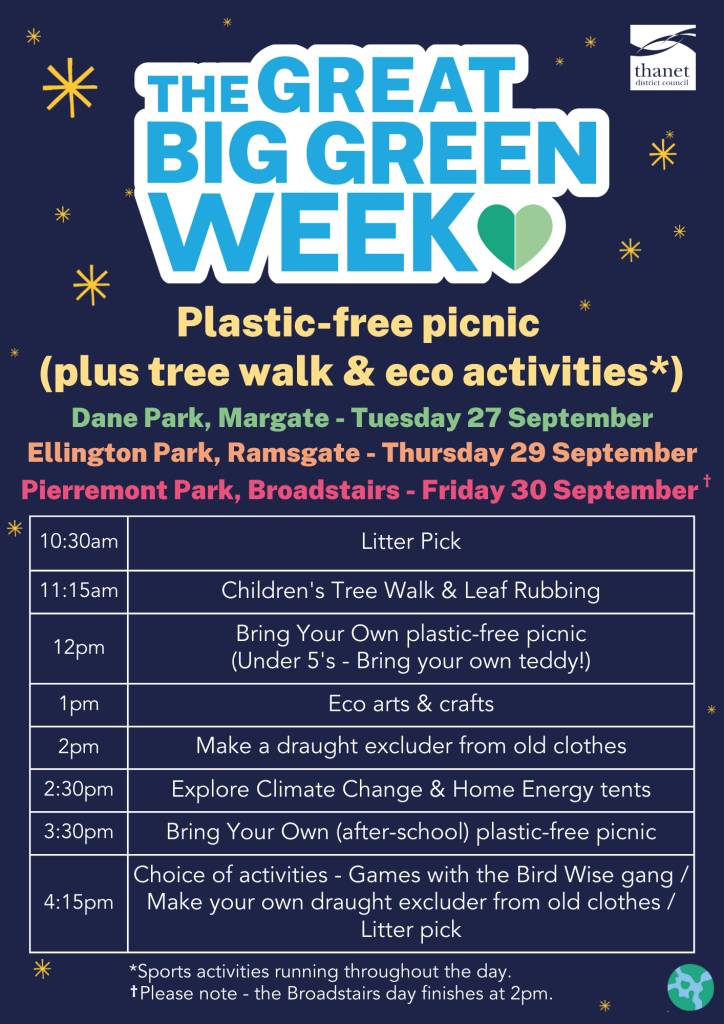 Other events across the Isle that week include the Rise Up Residency, where 17 local and international artists will be painting live across Margate from Sunday 25 September. The artists will be creating environmental murals to raise awareness of ocean conservation and the issues caused by plastic in and around our coastline.
The project is spearheaded by Rise Up Clean Up and Margate-based, internationally-acclaimed artist Louis Masai. It will culminate in a series of free workshops for residents in early October, with the aim to inspire, unite and empower the Margate community to reduce plastic use and respect the ocean.
Aside from attending these art workshops, there is ample opportunity to get involved as a volunteer, whether as an artist's assistant or even a wall-preparation painter. You can register your interest in taking part in the Rise Up Residency here.